Whether you're planning your 1st trip to Europe or your 21st, if you do this one simple thing you're almost guaranteed to have a more positive experience during your next visit, especially if you plan on using different cities as hubs and arranging day trips. Sounds too good to be true, but it's actually a simple thing and doesn't involve money or too much effort. In fact, we're going to do some of the hard work for you in this post. It won't help you for every city, but it will help you on the "port" friendly cities cruise ships visit regularly like Venice, Santorini, Mykonos, Malta, Rhodes, Barcelona, etc.
On our last trip to Europe we decided to combine a few cruises with our "regular" hotel stays. Our previous trip the year before didn't include any cruising, so this year we just felt like hitting the seas again. Without going into too much detail, the results were mixed. Two different cruise lines, some great cities, but one common problem. That problem is just too many cruise ships in port, with up to 5,000 (or more) passengers on each ship, all descending on poor little Santorini, or Venice or wherever all at once, and all trying to squeeze in every bit of sightseeing possible during their 6-8 stay. This obviously effects everyone, too, not just the cruise ship tourists since the population swells by tens of thousands. This pretty much guarantees no one there during those hours is going to be enjoying an ideal travel experience.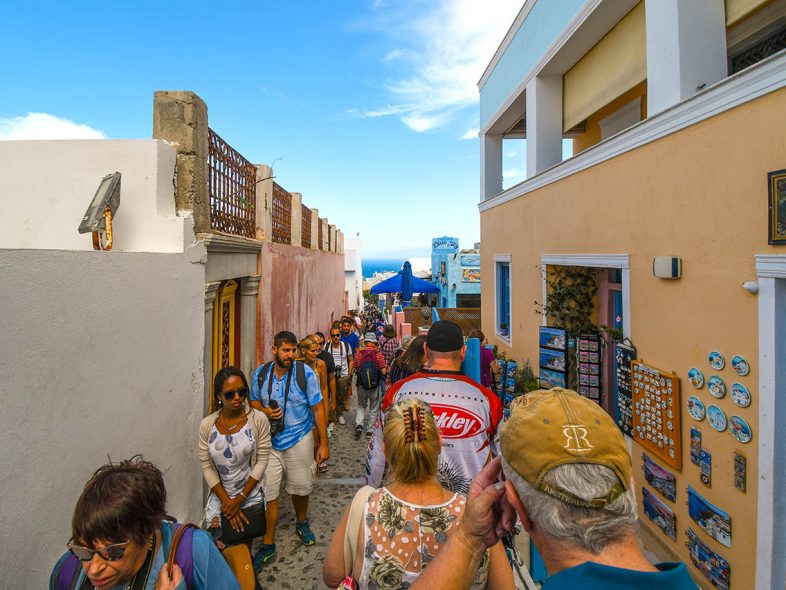 It's like a train of people - you can't even slow down or you'll get crushed. Santorini, Greece
So that's the problem, and it's a big one. Venice is one of our favorite cities but we were frankly in a hurry to leave this year. There was literally nowhere to go to escape the 20,000 day trippers. Same issue with Santorini. It was our first visit and I will not say we won't be back, but I will say that we will never go there again on a cruise. Trying to walk the narrow hilltop paths on Oia was fairly impossible since people were packed in like sardines.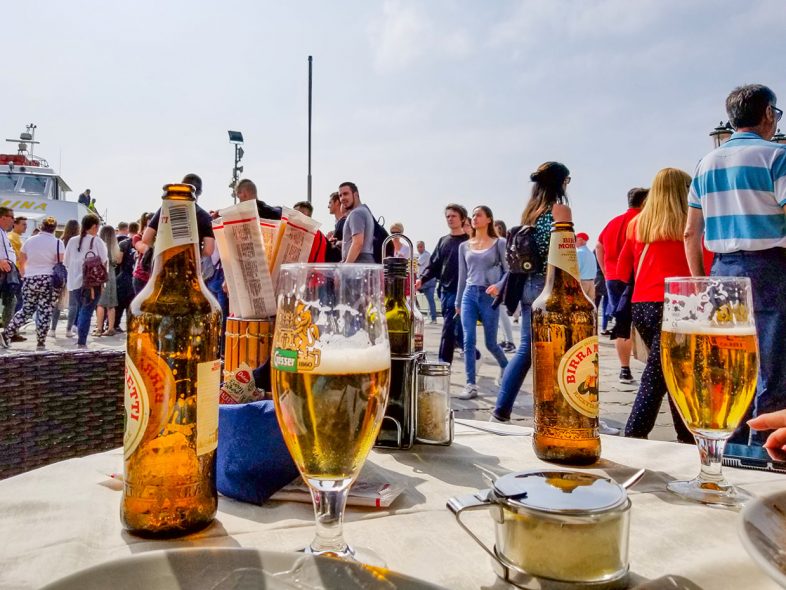 Romantic lunch for two on the Grand Canal in Venice, Italy. I think we can see a boat.
If you're on a cruise, there's not much you can do about the infuriating mass of humanity, but if you're one of the millions visiting major cities and NOT cruising, there is something you can do about it. Here's our partial solution for non-cruisers.
Check the cruise port schedule for every day trip you might be planning. Simple. If you're going to Italy, arriving in Rome and plan on visiting Venice and Florence like most visitors, before you book your rooms or transportation, check the cruise ports. For example, if you know you want to visit in mid September and know you want to visit Venice, pull up their "ships in port" website and start looking at the days surrounding your visit.
Here's what the schedule looks like for mid-September:
Sept 10 – 1 ship
Sept 11 – 3 ships
Sept 12 – 4 ships
Sept 13 – 5 ships
Sept 14 – 5 ships
Sept 15 – 1 ship
Sept 16 – 1 ship
Sept 17 – 1 ship
Sept 18 – 3 ships
Sept 19 – 6 ships
Sept 20 – 6 ships
Sept 21 – 4 ships
Sept 22 – 2 ships
You're talking a difference of up to possibly 20,000 to 25,000 extra people all squeezed into the beautiful historic center from one day to another. Even one ship less makes a difference, but 4 or 5? It's a whole different experience. Now there's no guarantee and schedules could change, but the big cruise lines know way in advance so you're pretty safe basing your decisions on the port schedule, even months in advance.
So, when planning your Italy trip use those days as a guide and try to schedule around the cruise port. If you want to visit Florence, check the Livorno port schedule. They're not quite as busy with ships as Venice, but you can easily arrange to visit on a 0 or 1 ship day instead of a 3 ship day and have 10,000+ less people to wait in line with.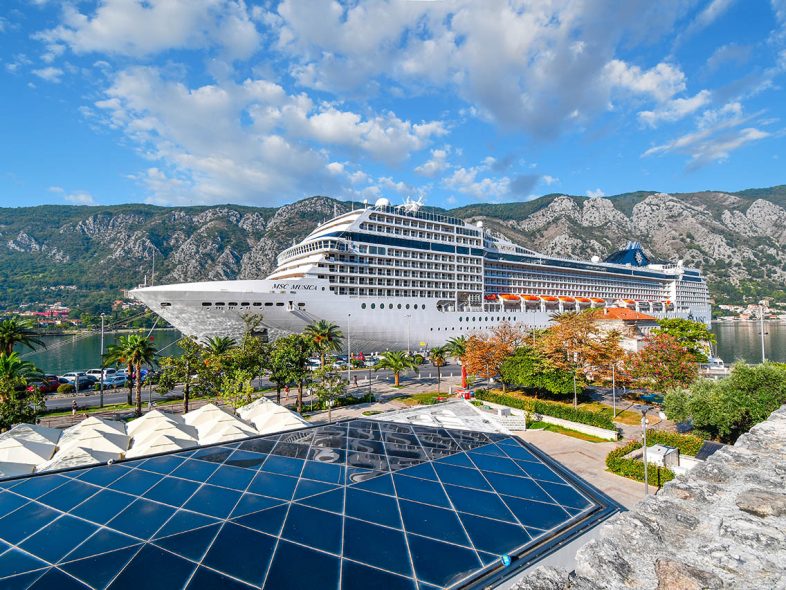 One large cruise ship means up to 6,000+ people for at least 6-8 hours. Kotor, Montenegro
So there it is. It's simple and effective and something I'll never NOT do when planning trips to cities that are popular cruise destinations. A little bit of homework and a huge reward.
You're welcome.