It took us 30+ years of travel together before we booked a European cruise. We had taken a few Bahamas/Mexico cruises, but those are a different type of vacation, not really about the destination, but more about the shipboard experience. Europe, at least for us, is all about the cities and sites and a cruise just never appealed to us due to the time limitations in each location. What changed our mind was the realization that we had hit all the "big destinations" and wanted to start visiting some new countries.
Time is always limited and time is money, so we began our European cruise experience as a way to see more locations – some that we may have never gotten to – and learn where to focus our attention for longer stays. Not being 30 years old may have something to do with it, too. We don't have the luxury of 40 more years of travel and discovery. So, are "older people" just trying to pig it all in and rack up countries on their passport? Possibly, but maybe wait until you're at least middle age before you judge this travel theory too harshly.
Passing through the Greek Isles near Corfu
CRUISING PROS
1. You get to visit a lot of places
Our last cruise was to the Baltic nations and we chose it because it included quite a few countries in Northern Europe that we haven't visited. Of course we didn't get to immerse ourselves and fully explore each destination, but we did get to visit some amazing locations and we learned we want to go back to a few and spend more time. We probably would have never made it to Russia had we not taken this cruise, and I'm glad we went. Even though the Russian portion was only 2 days, seeing St. Petersburg, driving through the city, watching and interacting with the Russian people, all broadened our travel experience and gave us a new appreciation for Russian society and culture. All because it was included on a cruise. The same goes for other cities we've visited on cruises. We have some amazing memories of places we were only in for 6 hours, and no matter what some anti-cruise travel snob might say, one can't deny those memories. And when we fall in love with a city, it becomes part of us. Even though we spent just 6-8 hours in Taormina, Italy, we think about it often and appreciate every moment we spent there and can't wait to go back. No regrets at all…
Getting ready to sail from Warnemunde, Germany
2. Arrival by sea
This is not always a pro, but for certain cities there is no better way to arrive than by sea. Airports are usually in less picturesque areas of town, so your first exposure is usually a bumpy, rushed cab ride or a bustling, often confusing train station – not the ideal way to create a first impression. On the other hand, a leisurely glide into port not only recreates the same first view as travelers 1000 years ago, but it usually offers a great first impression. One of our top 10 Holy Crap moments was arriving in Valletta Malta by sea. You are struck by the exotic beauty and history of this tiny island and I can't imagine my enjoyment being the same arriving by air. Along the same lines, arriving by ship can give you a completely different view of a city you've visited multiple times before. Venice would be the perfect example for us. We've visited Venice multiple times since our first trip in 1990, arriving by air and by train, but on our last visit arriving by ship, we were able to see areas of the city from our balcony that we had only heard about and would have never seen unless we moved there. We had a fresh impression of the whole area and just how unique it is.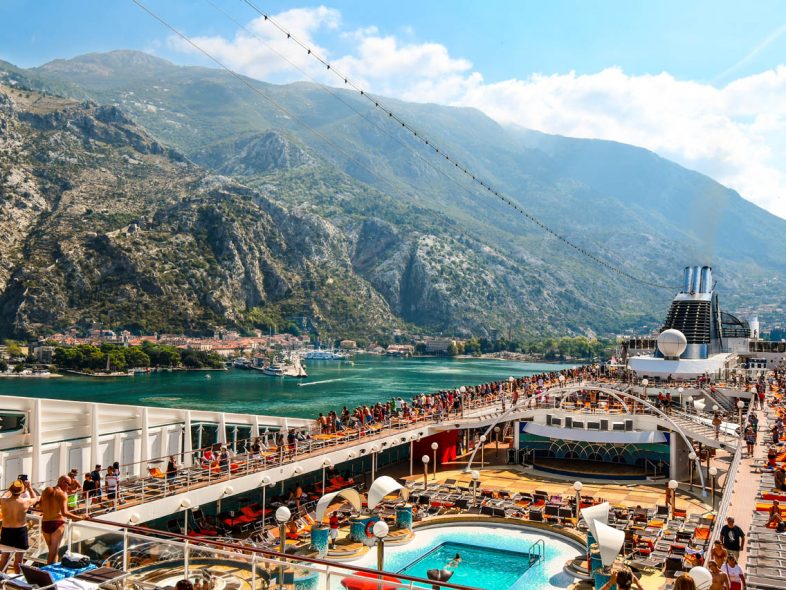 Arriving at the port of Kotor, Montenegro
3. Less packing/unpacking
Even though we have learned to travel light, it's still a chore packing and unpacking, checking in and checking out, and arranging for transportation to and from hotels. On a cruise, you pack once before and don't have to worry about it until the end of the cruise. You get to really settle in to a location and you'll find that your sleep is disturbed less which equates to better moods and more energy during the day not having to worry about early flights, late checkouts, etc.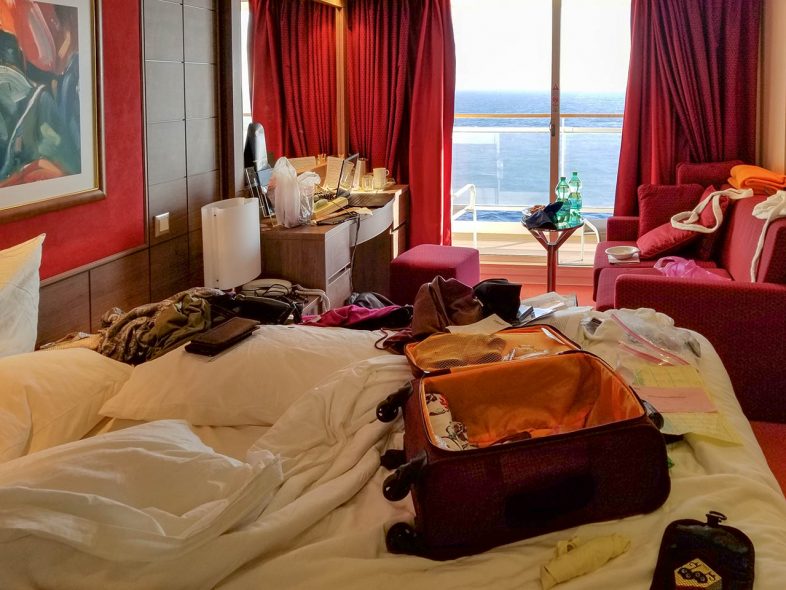 You can live like pigs for an extended period
4. Endless food and drink
I'm not a big eater so I don't go hog wild on all the buffets and cafes on a cruise ship, but to many people, the ability to order 3 or 4 entrees and 5 desserts at dinner is a huge plus. I do however, enjoy the all you can drink aspect, especially since there's no driving or worrying about getting so blasted we can't find our way back to the hotel after a night out. The food on cruises is generally fine and just walking in, eating, and then leaving is kind of fun. And drinking as much scotch as you can – that's fun, too.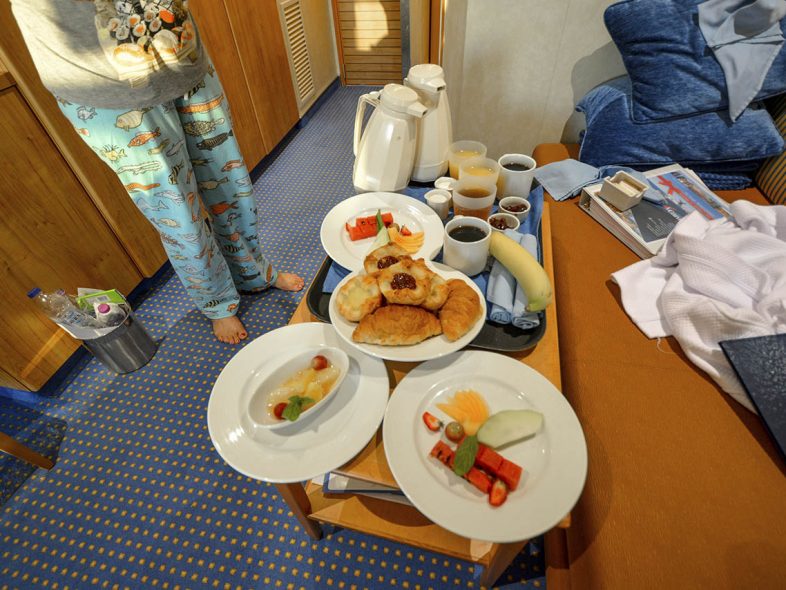 No, there were only two of us...
5. It CAN be affordable
It's possible to pay far less for a 11 day European trip, especially when considering all the countries you visit, through cruising than through traditional modes of travel (planes, trains and automobiles). If you go for the inside stateroom, don't book the expensive shore excursions, and don't go for the add-on drink packages, you're going to have an amazingly affordable trip. It may not be too much fun and you may feel like you're in prison while on the ship, but you will save money. With that being said, we always spring for the balcony and it never disappoints. Enjoying the coastal views from your private balcony is wonderful and worth the extra money.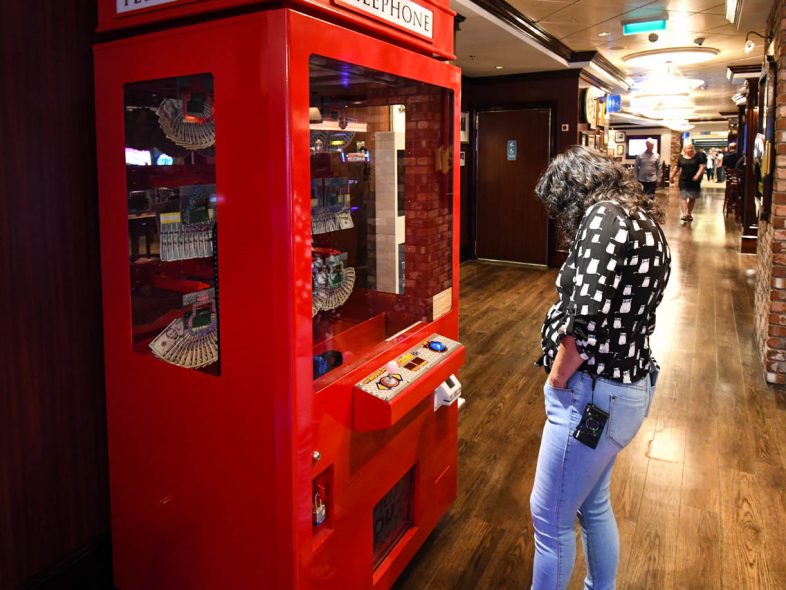 Affordable, unless you mess with the games of chance
6. Entertainment and activities on board
I'm including it as a "pro" but that's a little bit of a stretch for me personally. That definitely varies by cruise line, but I've never been wowed by any show we've seen on a cruise. Some of the bars and discos are fun on certain cruise lines. If you like to dance, then you're going to love it. If you don't dance (which would be me), you get to sit back, drink a few "free" glasses of scotch and watch people let loose of most of their inhibitions. I've seen people do things on cruises they would probably never do on land or at home. Something about a cruise brings out the sensual libertarian in many people and it's fun to observe. As far as activities (aside from the sleep inducing Bingo) there are gyms, pools, spas, etc. but we never use them. We get enough exercise walking 4-12 miles a day, we hate spas and I personally don't swim in community pools or hot tubs. Not the right person to ask about those things but I'm sure some people just love to sit around the pool with all the other guests, which leads me to the cons….
Maybe not the best example, but lots of activities onboard
CRUISING CONS
1. All the other guests
It's not that we're anti-social – we're actually two of the nicest people you will meet, but I have a serious issue with crowds. Of course the cities can be packed with people, too, but something about some people and how they act on a cruise can really drive you nuts after a day or two. Waiting in line for food, having people push in front – it can bring out the worst in people. They're here to enjoy their vacation they paid hard earned money for and they're going to get what they deserve, no matter what, and that includes getting the top piece of bread on that tray even if it means butting in front to do it.
This may not be your idea of fun - too many people
2. Sea Days
It's like a European cruise without the "Europe". You're undoubtedly going to be stuck with a sea day (no arrival in port that day, just travel), and for the enlightened ones, they ultimately learn to enjoy the experience, eat more food, swim in the pool longer, and take advantage of that "nowhere to go" feeling. That's not us. I get bored very quickly so a sea day is agonizingly long. It's not that I can't relax and enjoy time with my spouse, but we came to visit and experience, not eat and swim.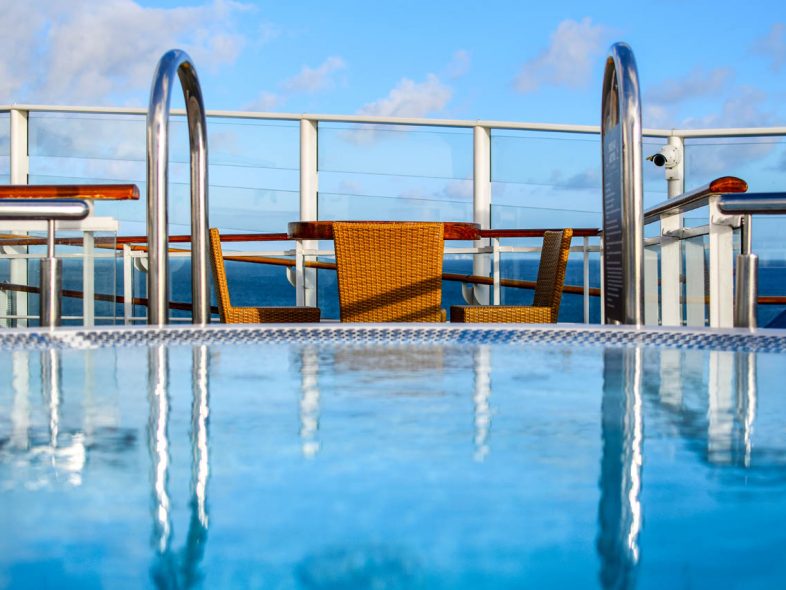 Sea days, unless you really love the ship, can be a bore
3. Limited time
Despite me mentioning the other passengers first on the cons list, for most people (and us too I guess), the main con is that just when you get to know a city you have to head on back to the bus parking so you can make that 5pm deadline to be back on the ship. It can be very frustrating. I can be especially irritating if you find that the tour you booked turned out to be a big letdown. For instance, we had a limited 6 hours in Helsinki Finland and for some reason we booked a tour that included a 2 hour stopover on a farm to look at horses. I have nothing against horses or farmers, but that's not how I would have wanted to spend my limited time in a world class city. We're still not sure how that happened…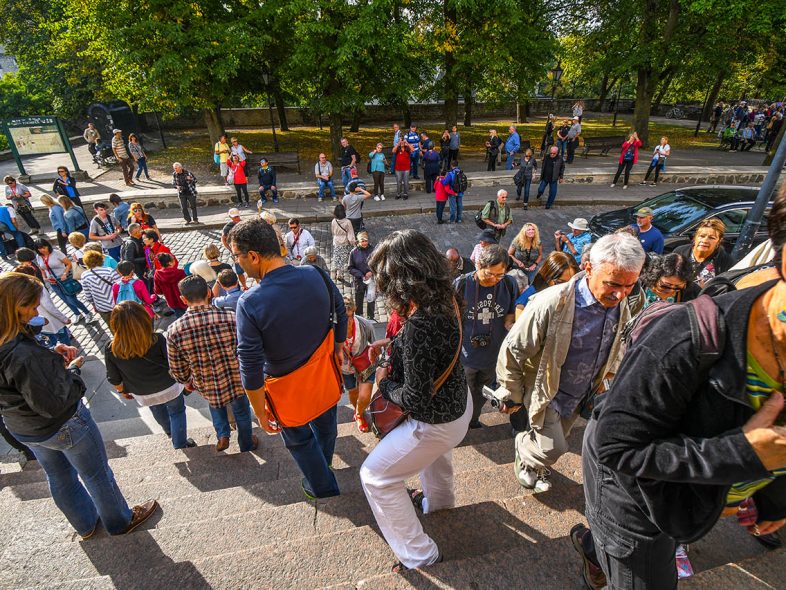 You may feel rushed with not enough time to explore on your own
4. Expensive shore excursions
Keep in mind that you don't have to purchase shore excursions through the cruise ship, but it's often so convenient that if we find a tour we like, we pay the extra money to go through the cruise line. There are advantages, too. One being that we will never get left behind if we're late since we're under the watchful eye of the cruise ship appointed tour director, and two, at certain locations the cruise tours get priority. When you only have 9 hours in Naples to get to the Amalfi Coast and back, every minute is valuable. We've noticed prices seem to be rising on shore excursions, too. A pretty standard excursion into town with a tour guide and bus is going to cost from $90 to $200 a person for that 6-8 hour period. That's a lot of money…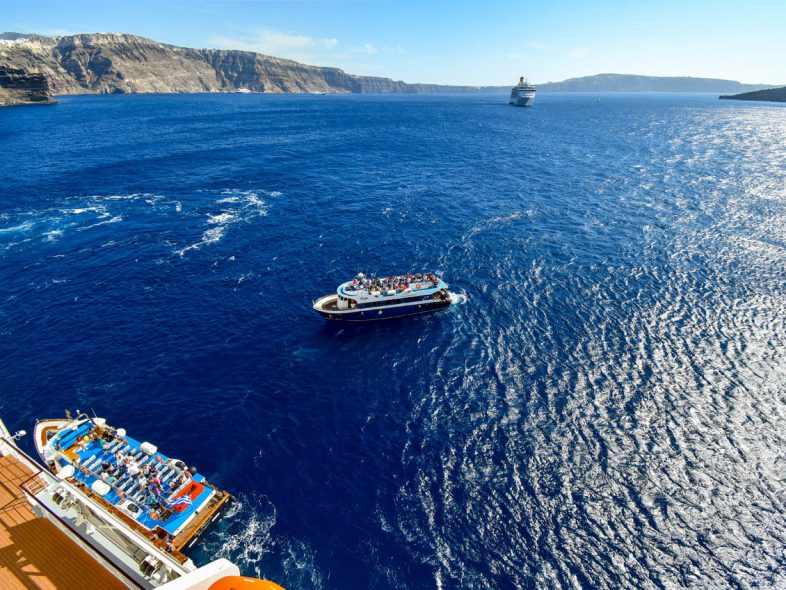 Shore excursions can easily add $200 to $400 a day for two people
5. You are at the mercy of various other factors out of your control
I would have never included this had we not just missed out in Stockholm Sweden when the pilot decided the weather was too rough to dock. We had experienced disappointment once before when the cruise line decided Turkey was too dangerous to visit (sticking us with another godawful sea day), even though other cruise lines were visiting without problems. The fact that we missed another anticipated port now leads me towards thinking this may be a problem worth mentioning.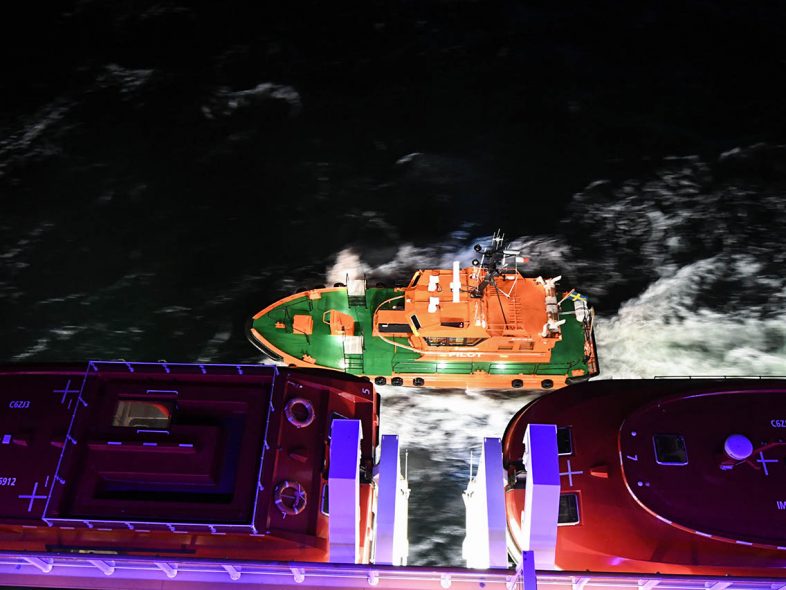 We paid for a cruise that included Sweden. This is as close as we got...
6. Guilt
Specifically if you're visiting Venice, but could apply to other cities and ports. The massive cruise ships have had some devastating environmental effects on the lagoon of Venice. Due to that, they are now banned from entering the Grand Canal, but beyond the environmental impact on the lagoon, the mass influx of sometimes 20,000 people, all visiting literally at once, is devastating to the city infrastructure and services and pretty much guarantees that anyone there during those peak hours isn't going to appreciate the "real" Venice. On the contrary, you hear more and more blistering reviews on how overrated and awful Venice is. Such a shame… it's one of the most beautiful and remarkable cities in the world, but having visited recently on a heavy cruise day, I understand the criticism.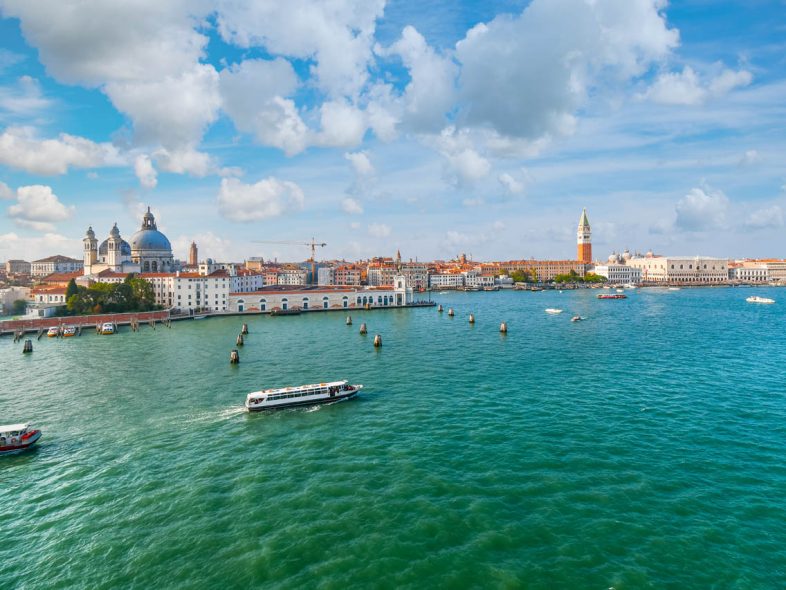 Venice, Italy. Beautiful view from the sea, but skip the cruise and stay a few days.
So there you go… Hopefully, a balanced summation of what's good and bad about cruising. To some people, cruising will always be for people who don't really care about the destination and just want to eat and drink all day while they rack up pins on a map. Tourists, not travelers. But for some of us, it's a valuable option with some serious advantages over standard travel.
Check your ship's wifi and data policy. Not all cruise lines are equal.
For god's sake, take the ship's stairs if you're only going one floor up or down!
Check time in port for each cruise line. They vary greatly.
If you use the same cruise line on multiple vacations, you may get discounts on future cruises.