Next time you're lucky enough to visit Athens, consider a day trip to a few truly remarkable historic sites, Mycenae and Epidaurus. Even if you're not well-versed in Classical Greek history, there's enough visual scenery alone to make this visit a worthwhile trip back in time. And as a huge added bonus, cats — a lot of them. So, let's take a quick look at the ancient past in the Southern Peloponnese region of Greece.
We visited on a day trip and hired a private driver for the entire day. Not something we normally do since we usually love to discover sites on our own, and usually by walking, but due to the distance and our unique emphasis on cats, we didn't want to join a group tour.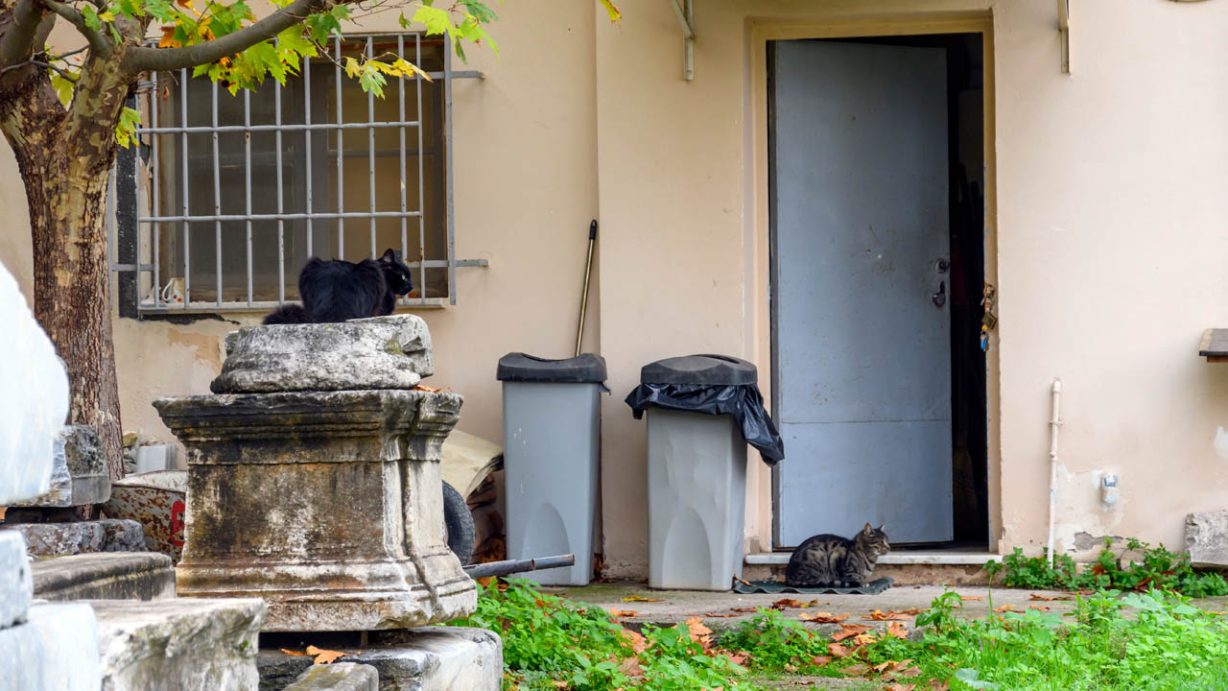 Morning at the Roman Agora. The cats were just waking up.
After an early morning wake up and breakfast at our hotel Adrian (great location next to the Roman Agora which is FILLED with cats day and night), we walked a few blocks to our meeting place and were on our way to Mycenae, the ancient archaeological Bronze Age fortress perched atop the Peloponnese hills of Southern Greece. First though, a stop at the Corinth Canal, man made canal connecting the Gulf of Corinth in the Ionian Sea with the Saronic Gulf in the Aegean Sea – a pretty important link designed to prevent ships from having the navigate the rocky, dangerous coast of the Greek mainland and outer isles. I'd love to say we were in awe of the history and magnitude of this wonder of the world, but we pretty much gave it a quick nod and were on our way to see the cats. I'm sure some visitors are able to visualize and appreciate the enormity of this undertaking, but were in cat mode, so we gave it a quick "Griswold" (based on the very funny movie "Vacation" when they visit the Grand Canyon), and told our driver we were ready to go.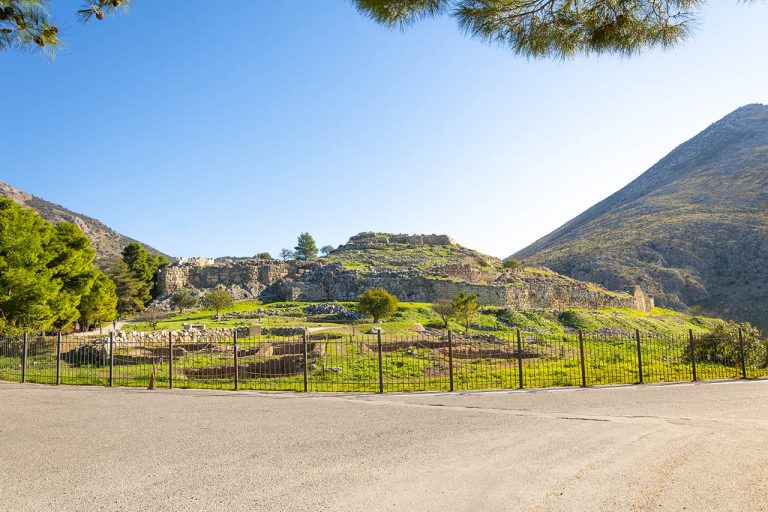 Next stop, Mycenae….
Our very experienced driver had been to this location many times, and also happened to be an animal lover, so he prepared for the best locations to find the cats, told us to expect a lot, and even gave us a preview of a few he had seen recently that we should look for. We truly felt like we had hit the jackpot. He was not wrong. As soon as we stepped out of the van we were greeted with at least half a dozen mixed ages of short hair kitties.
A few kittens were drinking water from a pothole and the adults were lounging in the shade. We even saw a fairly rare long hair cat along with the typical calico and black and white. We're not total Philistines, so I have to admit a real chill up my spine when looking up at the citadel on the hill, and though we were enjoying out time with the kitties, we headed up and started climbing towards the top.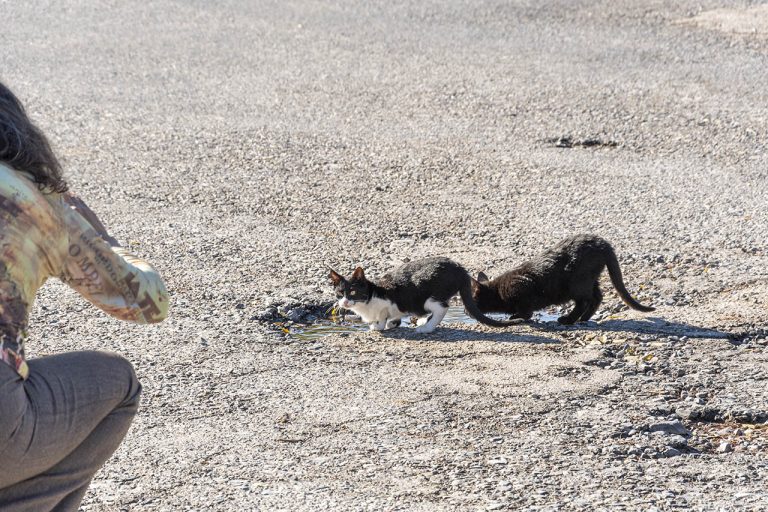 Halfway up we were met by the sweetest little tabby we'd seen so far this trip. He even jumped up on Mimi's lap and seemed like he never wanted to leave. Because our time was limited, as much as we loved the attention, we needed to get moving, and had to make a pit stop on the way. That didn't bother him too much though since he even followed her to the public bathroom and patiently waited outside for her.
There were at least 3 or 4 more hidden in the bushes and sleeping in the garden and we said hello, let them relax and kept walking towards the top. I won't go into the history of this site, but like many ancient sites you can almost feel the weight of history in the ruins. Mycenae is most well know for it's Lion Gate, and we particularly enjoyed entering the site through such a well-named portal.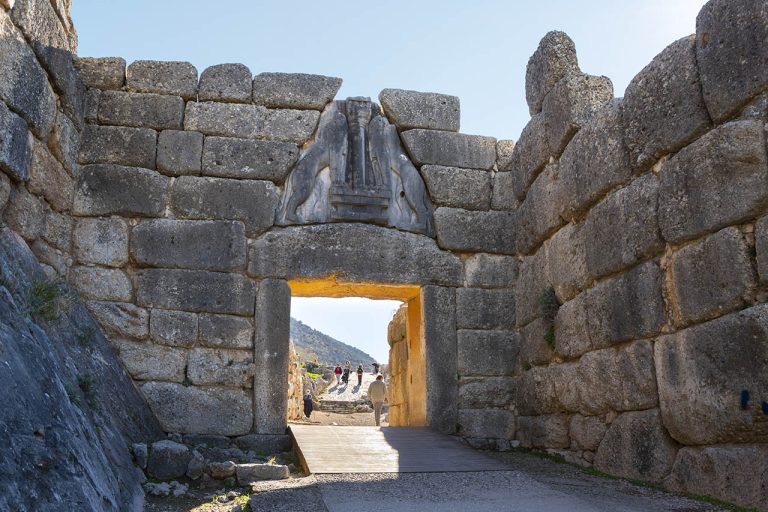 We also got lucky near the top when another tabby jumped up and helped himself to a drink of water that had pooled in an ancient receptacle. As always, the camera was out, so we snapped away.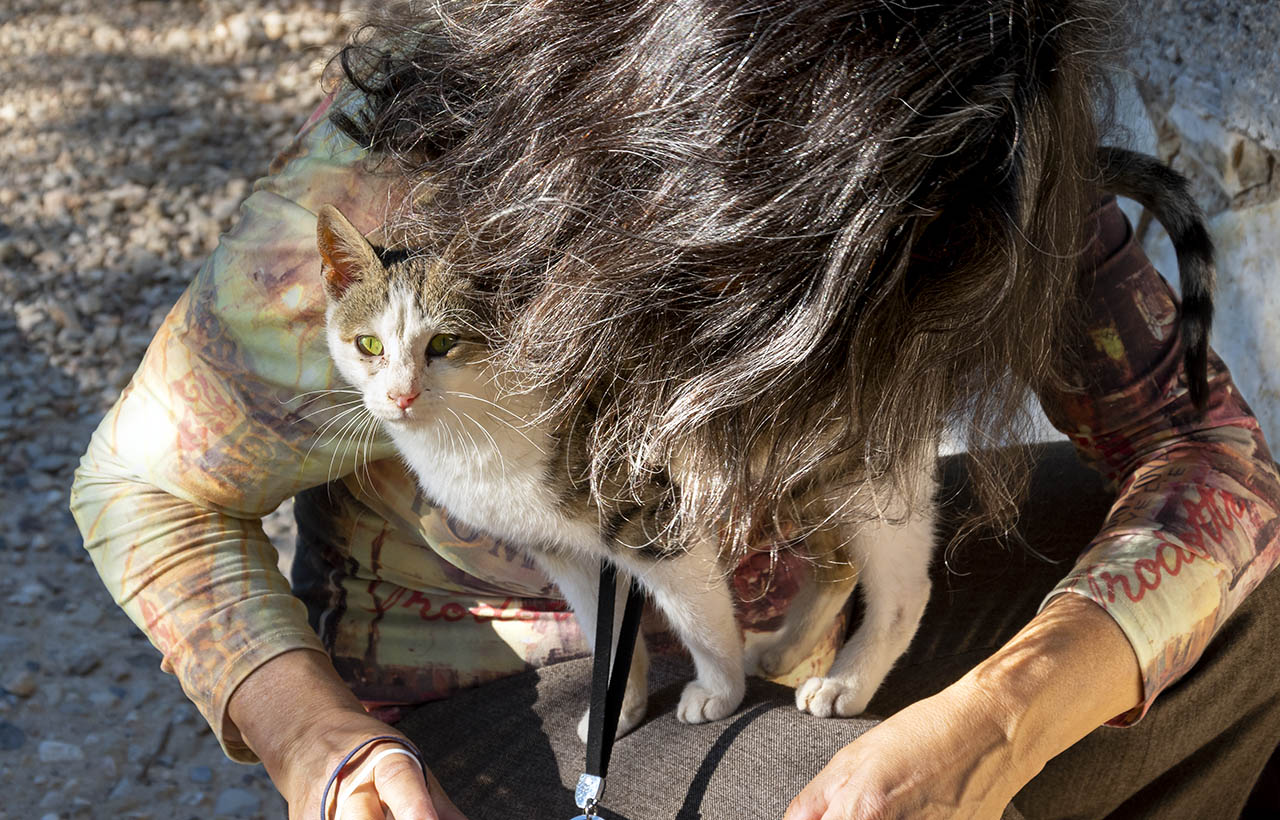 An enjoyable 30 minutes later we were on our way down the hill to meet our driver and got to enjoy another round of kittens and cats in the parking grounds. For more information on the Unesco World Heritage site of Mycenae, visit
https://ancient-greece.org/archaeology/mycenae.html
---
Epidaurus, the ancient Healing Center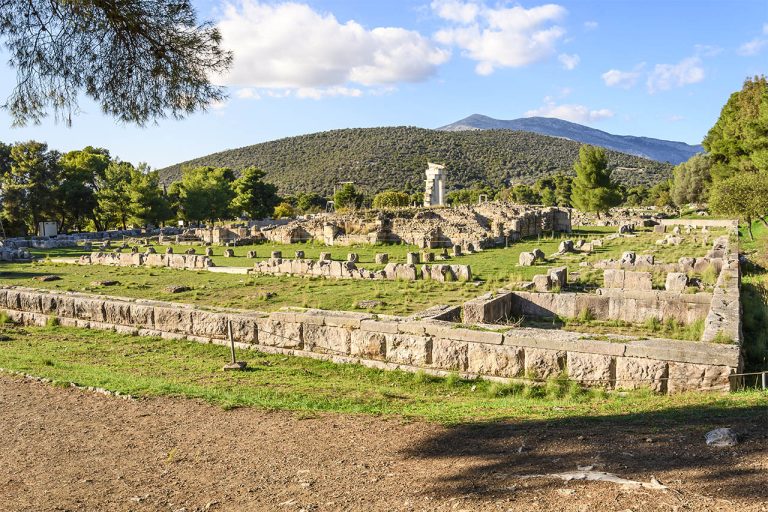 I have to admit we didn't know too much about Epidaurus despite numerous trips to Greece and a fairly good college education, but luckily our driver schooled us on the basics and we were ready to enjoy this expansive site tucked away in the green hills of the Peloponnese.
The main draw is the theater, or amphitheater, which is considered one of the best preserved in Greece. We have visited several ancient amphitheaters in Greece and Italy and more often than not the setting is absolutely breathtaking, and this is no exception. But before that, we needed to park and walk and as we had hoped for (and the driver had told to expect), we were again greeted by a good handful to a dozen cats lounging in the cafe and park areas. Nice mix of kittens and adults and all in what looked like good health which is always what we hope for.
The Theater did turn out to be as enjoyable and rewarding as we'd hoped for. The seats were still in place and it seemed to look almost like it was 2500 years ago when the ancient Greeks enjoyed plays under the stars. While not perched on a mountainside like Delphi or Taormina, the view from the top was still breathtaking. As a side note, this theater is noted for it's acoustics, and it did not disappoint. Mimi was still on the ground level (more on that in a minute), and I could literally hear her talking to me in a normal speaking voice from the top seat. It was pretty spectacular and I did get a chill or two sitting at the top, enjoying the view and imagining what it was like so long ago.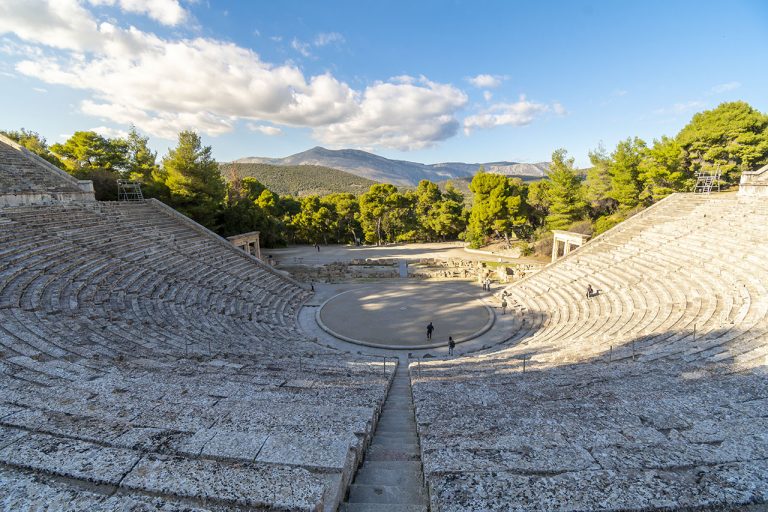 As to why Mimi was still on the ground level, it's easier to post in photos. This little girl would not let her leave! She even started nursing on her sleeve. One of the many cats we've wanted to take home with us over the years.
We can't help wondering and hoping that all these beautiful cats stay healthy and enjoy long lives, but we do know the reality of cats in the wild and sometimes it breaks our hearts. But for now, we were all happy enjoying the ancient ruins, the beautiful green hills and time spent together with cats.
All in all, a wonderful trip for history lovers and cat lovers, and one we would recommend without question.
For more information on Epidaurus, visit https://ancient-greece.org/archaeology/epidauros.html