Even though it sometimes seems that cameras are on their way out – forced into antiquity by the outstanding performance of most modern camera smartphones, there are still a lot of good reasons for the every day traveler to bring a solid, dependable point and shoot camera with them on holiday. What price range depends on how serious you want to get about photo quality, but even the lesser expensive point and shoots
(under $200) offer some big advantages over your camera phone.
Every photo looks good on a cell phone screen, and for many, if not most, people, that's more than good enough for what they want to do with their image. Whether it's facebook, instagram, twitter – all the social media sites (which is where 90% of photos taken on cell phones end up), you're not going to need a high resolution image to look vibrant, clear and free of blur or color issues.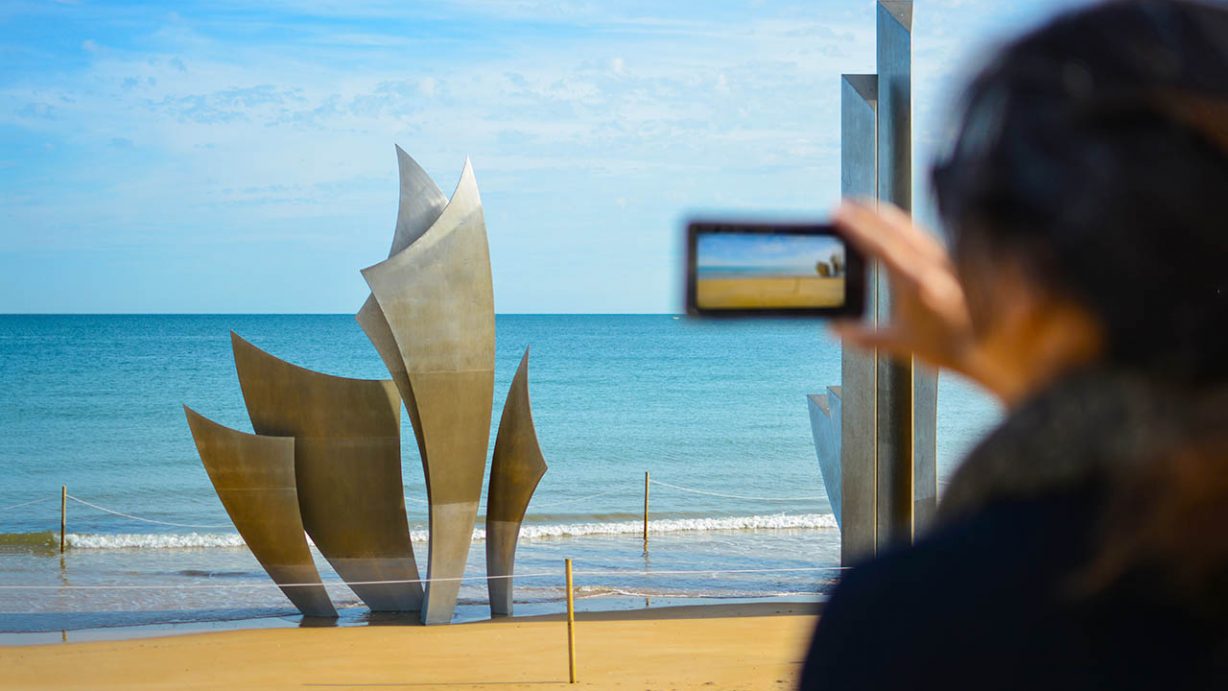 You can't beat the convenience of a smartphone camera
The difference comes when you decide to print your photos or do anything other than post to social media. The next time you pull your photos off of your phone, open them up on our desktop and view them full size. You'll notice considerable loss of clarity and graining. Not a big deal if the photo is intended for facebook, Aunt Henrietta or your buddies at work, but not good enough for anything else really. If you don't care, then grab that camera and shoot away…
After all, I totally understand the value and ease of use of a camera phone. For that reason, along with my DSLR camera, I always shoot some photos with my camera phone. It's just so easy… But, keep in mind that if you're traveling, battery usage is a key ingredient to managing your time on vacation. If you shoot 200+ photos a day, it's going to definitely take a toll on your battery. We do keep a portable charger with us on vacation, but even then, risking a dead cell phone battery in the middle of downtown St. Petersburg, Russia, is not something I want to come near doing.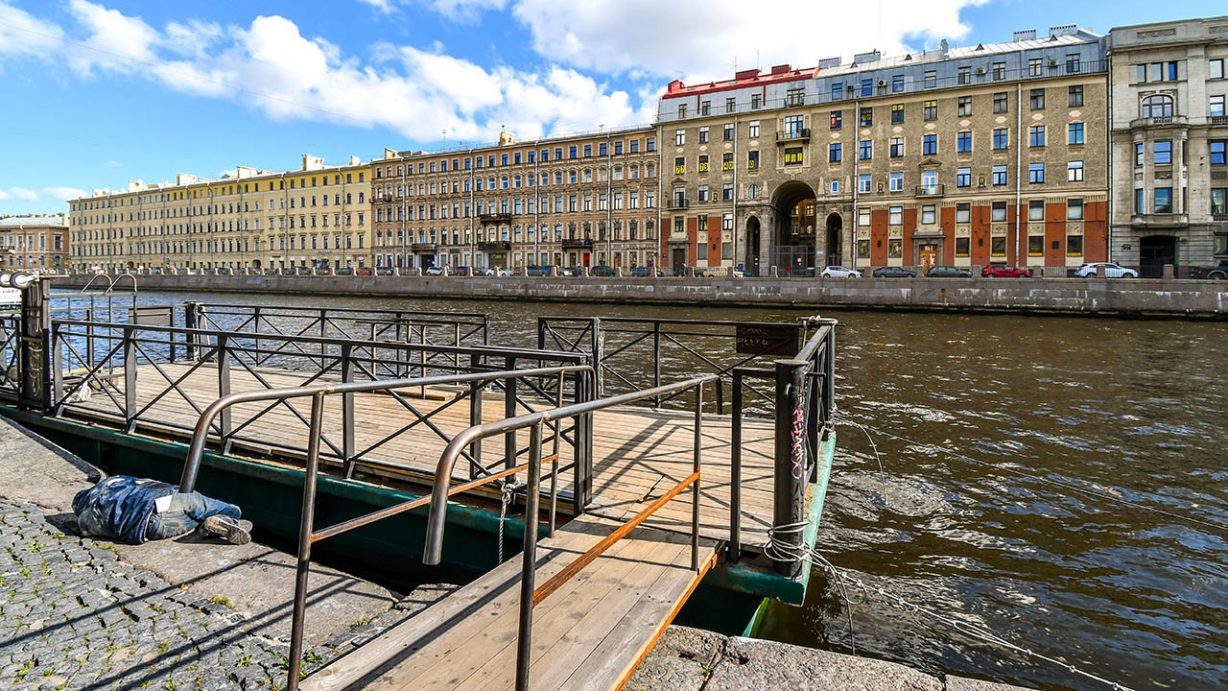 Don't end up like this guy due to a drained cell phone battery...
So, assuming you'd at least like the the option of printing some photos and having them actually look good blown up to 11×14, where do you start. At minimum, you're really going to want to invest a little money in a good point and shoot camera. If you're
really
serious, then you'll need to step that up to a DSLR or a mirrorless camera, but going that route means you should also invest time in learning the holy trinity of photography, ISO, aperture and shutter speed.
Buying a good DSLR camera
(DSLR stands for digital single lens reflex), and shooting in auto mode is like buying a sports car and never driving above 55 mph. It's just a waste of your time and the camera's. Going DSLR also opens up a Pandora's Box of accessories (lenses, tripods, cases). I lug around a large camera bag with my equipment in it which has actually tried to kill me on a few occasions by either strangulation or by forcing me to lose my balance and fall to my death, but for me it's worth the effort (and physical pain). So, it's a definite commitment going DSLR. If you are thinking of taking the time to get to know the ins and outs of shooting in manual (or any of the priority modes), my suggestion would be a
Nikon D3500 W/ AF-P DX NIKKOR 18-55mm f/3.5-5.6G VR Black
which generally start in the mid $300 range. It's their bottom of the line model but very capable and will get you started. If it's turns out you hate the whole idea of having to turn dials every time you take a photo, hand it off to a friend or sell it (Nikons hold their value pretty well). At least you tried.
So back to point and shoot vs. smartphone.
Here's a good example of the differences. We took many different photos of this cat in Matera, Italy, including with our Samsung smartphone and our
Canon PowerShot G9 X Mark II
. While the quality is off a little due to image compression, you can see the difference in detail. It would be even more clear looking at them full size. The light parts are "blown out" on the cell phone – there is no detail to the stone sidewalk. You can also see the difference in the range of greens on the plant. In a perfect world, the image would be centered the same and from the same angle, but we were just going hog wild taking cat photos and at the time I had no idea I would be comparing photos.
Mouseover the photo below to see the comparison.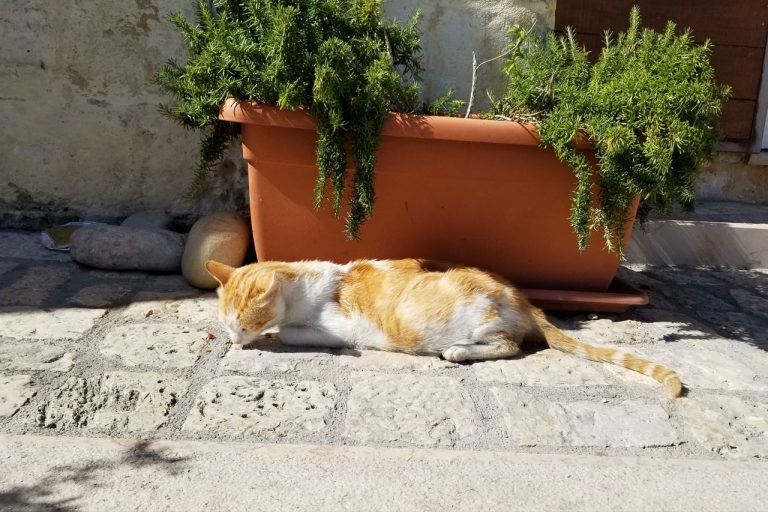 Samsung Galaxy Note 8
Canon PowerShot G9 X Mark II
So, assuming you don't want to be a photographer, but do want to take good photos, here are some options to take a look at for compact travel cameras. All are good, and by good I mean better than your smartphone (yes, even your google pixel and your iphone), and all are easy to carry which is part of the appeal while on vacation. I'm going to spare you all the gory details and minute differences between these cameras, because you really can't go wrong with any of these. That's one of the nice things about point and shoot – it's not rocket science. They shoot photo, video, have automatic mode, zoom, and are all compact enough to carry around easily.
---
Canon PowerShot G9 X Mark II
This is Mimi's camera and it does very well in most situations. You do have the option of shooting in manual, but automatic mode takes some great photos. You also have the option of shooting in RAW. That's usually left to professional photographers since you'll need either lightroom or photoshop editing software, so keep it in the normal .jpg mode. We'll leave photography tips and techniques to a different post. Prices for this camera are good compared to the quality and ease of use. Should be around $400.
---
Panasonic Lumix ZS50 / TZ70
Panasonic has never been known for anything top of the line, but they are known for being bargain brand, and this is no exception. The good news is that reviews are pretty positive and for a price of under $300, it just might be good enough.
---
Olympus TG-5
I have this one on the list because it has one feature that sets it apart from the others and I don't mean the red exterior. It's waterproof. I've never used a waterproof camera and have no intention of doing so anytime soon, but Mimi loves the idea, so we may have to pick one of these up for our next Greek island vacation.
---
Sony Cyber-shot WX220
Last one on the list, and the cheapest. Video quality will not compare to the 3 above due to it not have 4k, but it does have a good optical zoom and a great price.
---
So there it is… No matter what you decide to shoot with, just take a lot of photos. You'll never regret taking too many, but you will regret taking not enough. That is unless you take too many with your cell phones, drain your battery, can't call to arrange a ride back to the cruise port in St. Petersburg, Russia, miss your ship's departure time, and end up being held at the Ministery of Internal Affairs for 3 days because the U.S. doesn't have an embassy in Russia. Then you might regret taking a few too many.