Cat Rating – Scale of 1 – 5

---
Kotor, Montenegro, the "City of Cats". You would think this would be a slam dunk, all-time favorite for cat worshipers, but we had mixed emotions about our time there. It gets a "5 cat" rating, but definitely with some reservations.
It started off beautifully. Our arrival to Kotor, Montenegro was by cruise ship, and I can't think of a more picturesque and strikingly beautiful port arrival anywhere other than possibly Malta. The natural beauty of the Adriatic Sea and Bay of Kotor takes your breath away as the ship enters the narrow port area and dock.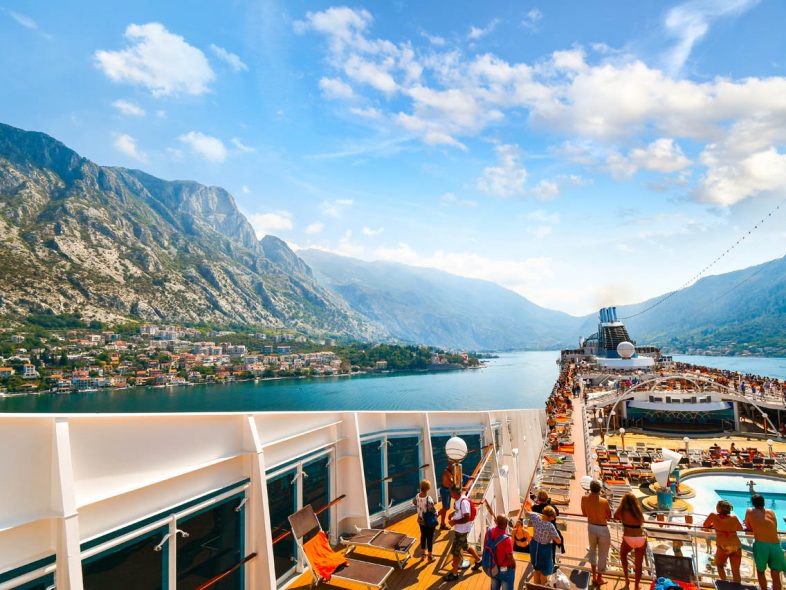 Entering the Bay of Kotor, or Boka
One of the many great features of this city is it's compactness. You can literally walk from the dock to the gates of the old medieval city in under 2 minutes. Once you pass through the arched tunnel at the entrance of the fortification and step into the Square of the Arms, it's as if you stepped back in time. Other than the many colorful souvenir shops and cafes that is. The city is filled with narrow alleys, dead ends, and short winding streets, all seeming to run in random order throughout the walled confines. It's also off limits to cars similar to many historic city centers in Europe, something that is very appreciated by all. The feel of the city is very similar to Split, Croatia, or maybe a miniature Dubrovnik, but there's something very innocent and unspoiled about it, more so than in the Croatian cities. It has been named an Unesco World Heritage site and there's no doubting why. It's impressive.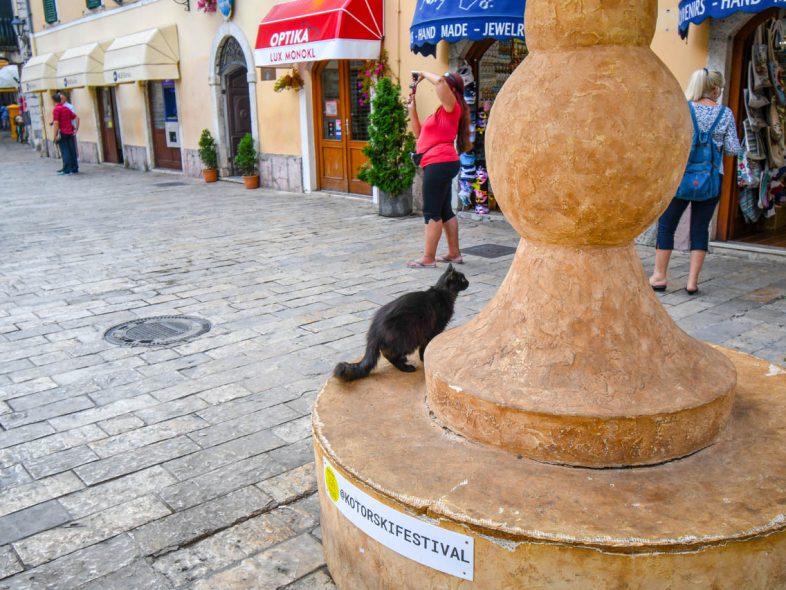 Giant Lamp - one of a few oversized pieces in the city
On top of everything in Kotor, literally and figuratively, are the imposing mountains packed in tightly above the medieval village. You can't help but be impressed by the crumbling, hillside ruins of the Kotor Castle, or Castle of San Giovanni. The hike is open to tourists and was I think 11 Euro the day we were there. Apparently there are other ways up the path that bypass the attendants, but really??? Pay the money, it's worth it. The hike isn't for those with health or mobility issues at all. We're both reasonably fit (Mimi more than Kirk who drinks too much beer), but there was a little huffing and puffing halfway up the climb. There are stops along the way where locals sell water and soft drinks and it was worth it. Especially on a hot day, stay hydrated.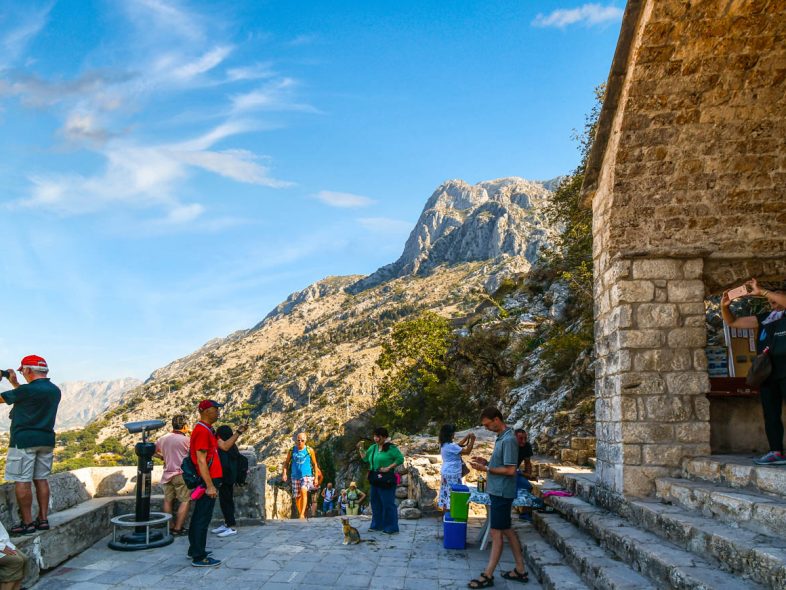 Water for sale along the hike
More risky for older folks than the sheer steepness of the path in areas, is the poor nature of path itself. Lots of narrow, pitched steps and areas of loose dirt so it's very easy to lose your footing. Going up isn't so bad but I saw several people slip coming down the hill. For photography fans, lots of great spots. Don't go hog wild too soon on the hill. I kept stopping thinking the views couldn't get better, but they did, so I ended up with probably 100 view photos, with the first 60 being poorer versions of the last 40. I do bring a Gorillapod
travel tripod
which helps, especially if it's a gloomy day or getting toward twilight.
The views are incredible…
Views from the Castle of San Giovanni
So, wonderful lookout spots, ancient ruins, fantastic views over the bay and medieval rooftops – what could be better than that? How about adding cats…
It was a cornucopia of cats of all different shapes and colors. All very calm, and all very hungry. We had purchased some dry cat food as we always do, and soon Mimi was like the Pied Piper with a couple little friends following her halfway up the mountain. So cute….
Back in town after the hike, we were finding a cat or two on literally every small street or alley we walked down. There was a constant "Cat, cat, cat?" coming from us everywhere we went. We even saw a few long haired strays which is uncommon for the Mediterranean area. A few seemed to have eye infections, but the general health seemed on par with Athens, Rhodes, Matera and other cat inhabited cities. At least it seemed so until we rounded a corner and came upon a very small park with a cart in the corner and a few benches placed haphazardly around the area. Our initial thought was that we'd hit the jackpot. Cats everywhere. Within the first 10′ we had probably seen 10-25 cats, and that number grew as we got closer to the center of the park.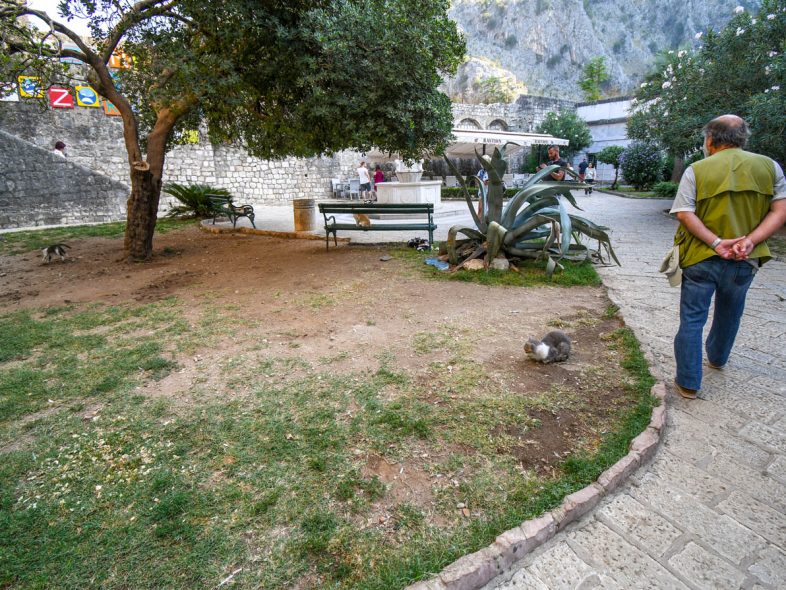 More than two dozen cats in this small park
Unfortunately, that was when we started to look more closely at the cats. The first hint that something was wrong was the literal pile of kittens under the bench. Even though cats like to cuddle, it was a warm day and it just didn't look like a normal litter of kittens sleeping together. On closer examination we could see that most had mucus around their noses, running from their eyes, and at least one had a very swollen eye socket. I'm pretty confident that one of the kittens was either dead, or very near death, too. We couldn't take it and had to move away since there was nothing we could do and they weren't interested in eating.
In another area there was a cart and it has a healthy looking group of very handsome cats playing on it. We got close to take photos and saw that unfortunately there was another group lying in the bottom of the cart who didn't look as good.
After that, we visited a few of the small churches, Saint Nicholas being the most prominent, and then headed towards the Square of the Arms for lunch at one of the sidewalk cafes. Lunch was great. We like tables with a view – we'd rather eat OK food in the best spot in town rather than fantastic food in some hole in the wall, but that's just us. No judgment against those who don't get it. Lunch was affordable at about $16 US for two sandwiches and two very good local beers, and the service was great. Tipping isn't expected – everyone knows that, but it's pretty hard not to tip for Americans and we're no exception so we left some extra Euro for good service.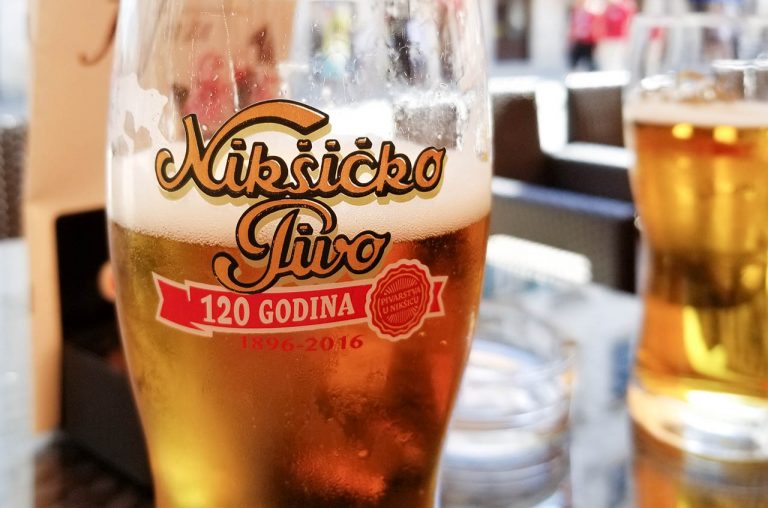 Good Beer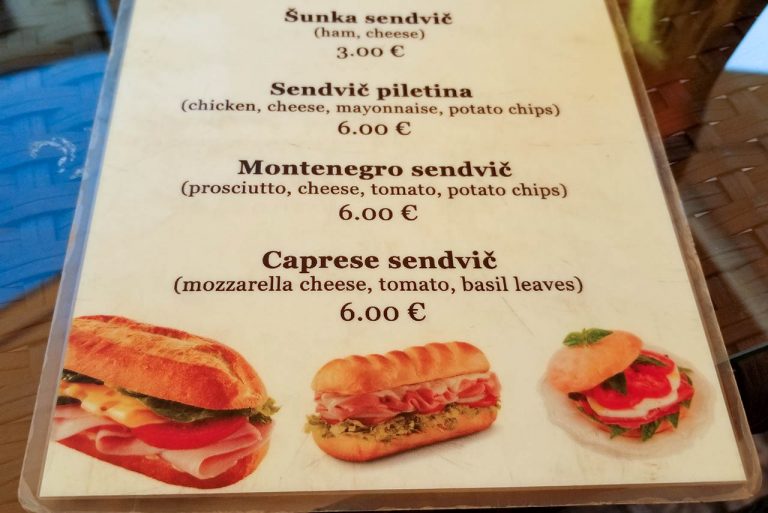 Good Prices
After lunch we headed back to the ship, and got one last cat encounter in the park outside the city. A very sweet black and white who made a pig of himself on our dry food.
So, all in all it was a mixed bag for us personally. For the average traveler I would have no issues highly recommending Kotor. It is physically beautiful, has superb medieval architecture and is compact and easy to love. For cat lovers, just be prepared to be a little shocked and saddened. There are several shops selling cat only souvenirs so my hope is that someone will step in and remedy this pretty pathetic situation with the cats. After all, it is the "City of Cats".
DO try to hike the mountain to the ruins of Castle San Giovanni, but DON'T forget to wear good shoes, bring water and be careful.
---
DO try to learn a few Montenegrin phrases like hello (Zdravo) and thank you (Hvala), but DON'T stress if you can't remember since there are many languages spoken and the people are wonderful.
---
DO try the local Niksicko Piva lager beer, it's tasty and very affordable, but don't overdo it because I didn't see any public toilets.
---
DO try to visit the cats in the park, keep going to the left after you enter the gate, but DON'T forget to visit our Support the Cats page if you feel like helping them out.