*We are looking forward to editing this post when we visit Istanbul, Turkey this September.
What's the first thing we all think of when planning our next European holiday? Finding cats, right? Ok, well maybe not most people, but it's certainly one of the main ingredients we use in planning our next trip. So, in that regard, here is our Top five Six List of the best cities in Europe for your next Cat Photo Safari.
P.S. Make sure wherever you go that you stop by a local market and pick up some dry cat food to keep with you. It'll make you very popular in the cat community.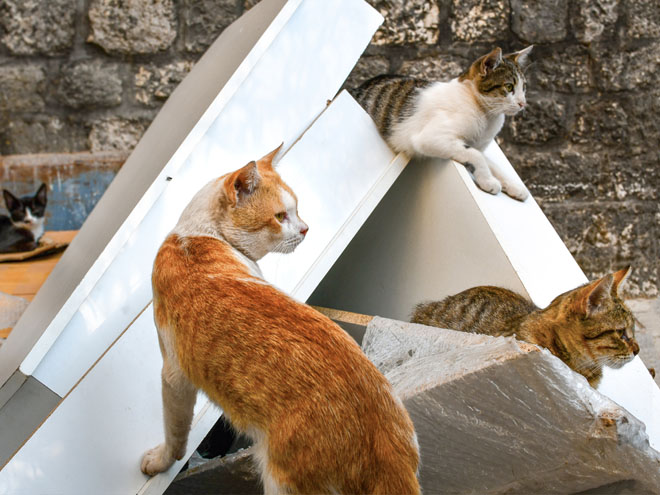 You will see cats. You will see a lot of cats. It is literally "The City of Cats". They're pretty much on every street and alley in the medieval walled Old Town of
Kotor
. Head to the left once you enter the main gate at the Square of the Arms and you'll come across a small park filled with dozens of them. On our last visit, there were a large number of very ill looking cats which was heartbreaking, but I think that's going to changing soon due to some new cat charities focusing on Kotor. For a slightly more adventurous trek, try the hike up the mountain to the ruins of the Castle of San Giovanni. Keep your eyes open on the way up and before you know it, you'll have a little trail following you (assuming you remember the food).
Click here for tours and activities in Kotor Montenegro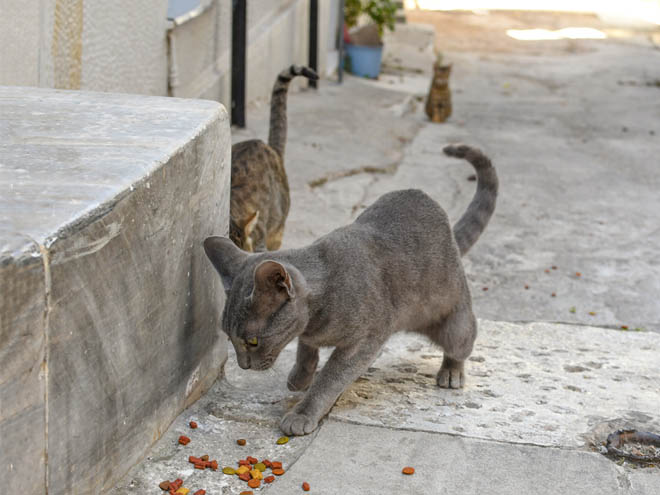 Athens
has so much going for it – history, architecture, great food, fun people, but it's also home to an amazing amount of stray cats. You're not going to see them roaming around in the business districts or the busy Monastiraki Square, but head towards the historic Plaka district and just get off the main roads. It's not like Kotor where you can't miss them though. You will have to be on the lookout, but if you check small gardens, alleys, dead ends and quiet residential streets, you will be rewarded with groups of cats living together. They're a little shy compared to Kotor, but beautiful (of course).
Click here for tours and activities in Athens Greece
There are many reasons to plan a trip to the Dalmatian Coast of Croatia, but while you're enjoying the water sports, ancient Roman ruins and fresh seafood, take some time to wander the ancient Diocletian's Palace section which forms about half the old town of
Split
. Start there because it's just so amazingly beautiful with it's winding alleys, ruins and medieval structures, but you can also venture outside the old town to the areas adjacent where you should find fairly large groups of cats living together. They did exhibit some health issues, but not as bad as Kotor, and if you get lucky you'll meet an amazing man who takes care of the strays (and hopefully help him out with a small donation for the cats).
Click here for tours and activities in Split Croatia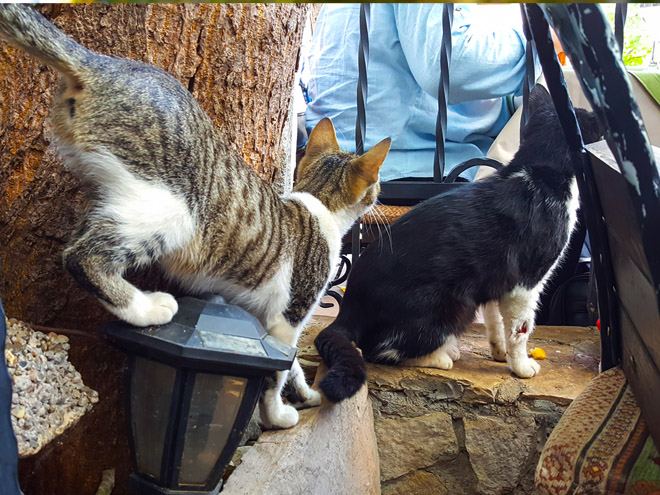 Mostar Bosnia and Herzegovina
Mostar is a fairly easy day trip from Dubrovnik, Croatia, and worth the drive just to see the old Bridge and picturesque old town with it's marketplace and bazaar. Cats are just an added bonus, but one you'll enjoy since we found the Mostar cats some of the healthiest and most playful of all our favorite cat cities. Lots of black and white cats – we've never seen so many in one place, and if you decide to eat lunch in one of the local restaurants, make sure you sit outside. There's a good chance you'll have some four legged lunch companions.
Click here for tours and activities in Mostar Bosnia-Herzegovina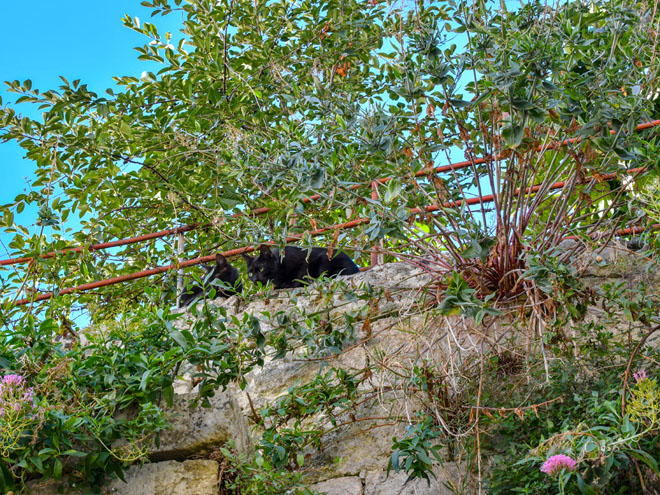 There's no shortage of cats in Italy. We've seen them in pretty much every city we've visited (although Florence cats don't come to mind when I think about it…). We chose
Matera
because it has a lot of cats, but also because it's an incredibly magical place that you have to visit at least once. It's building a reputation and they're putting a lot of resources into getting ready for a mass influx of tourists, but hopefully it will retain it's almost ghostly, abandoned atmosphere when you arrive. The ancient sassi cave dwellings even go back to prehistoric times. You can even stay in a cave hotel (We stayed at
La Dimora di Metello
and it was incredible). As far as the cats… We found pockets of cat families towards the outer edge of the ancient part of the city (there's a "new" Matera, too, but we're talking about the prehistoric part). They're a little shy compared to some other cat destinations, but very sweet once you gain their trust (the dry cat food will help).
Click here for tours and activities in Matera Italy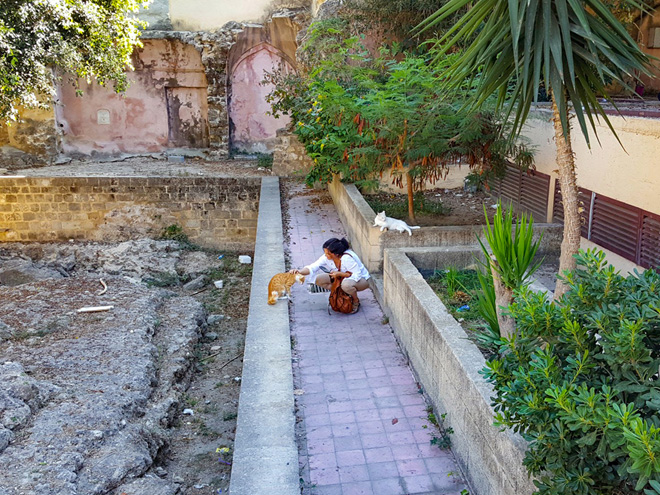 Rhodes
is one of the easternmost islands and the largest of the Dodecanese islands of Greece. It has a long and interesting history going all the way back to classical times, and was the site of one of the 7 ancient wonders of the world, the Colossus. Your best bet for cat spotting is in the very picturesque walled old town. It's located right at the sea near the cruise port and from the moment you walk through the ancient doorway you're going to be in the presence of some great felines. We found the cats of Rhodes to be some of the sweetest, cutest cats we've come across. The city itself is quite spectacular, too. Definitely worth a visit even with no cats.
Click here for tours and activities in Rhodes Greece
So there you have it. Make sure you remember the dry food and make sure you also appreciate that you're seeing the cats because their numbers are unfortunately out of control. Luckily, there are some
great cat welfare organizations
that you can support who are doing a great job with spaying and neutering. As wonderful as it is seeing the cats, we do all wish we coul live in a world with less homeless and sick strays roaming the streets.