Cat Rating – Scale of 1 to 5

---
Before visiting Athens, we occasionally heard some negative opinions about the city, so we were a little hesitant to push it ahead of some of the other destinations we visited. It was the last of the "big" Mediterranean capitals we visited, probably due to the words we had heard and read to describe it – "dirty, hectic, graffiti, loud, hot, etc." How wrong those people were and are! I'm the first to admit that we like most of the cities we visit, but we felt Athens was something special the moment we got out of our taxi. Not a bad drive, maybe 30-40 minutes from the airport or cruise port, and you can easily pick up the taxi at the taxi stand. Like many European cities, there's a set routine for both visitors and taxi drivers, so whatever you do, don't pick a taxi NOT at the front of the line – you'll get an earful from everyone.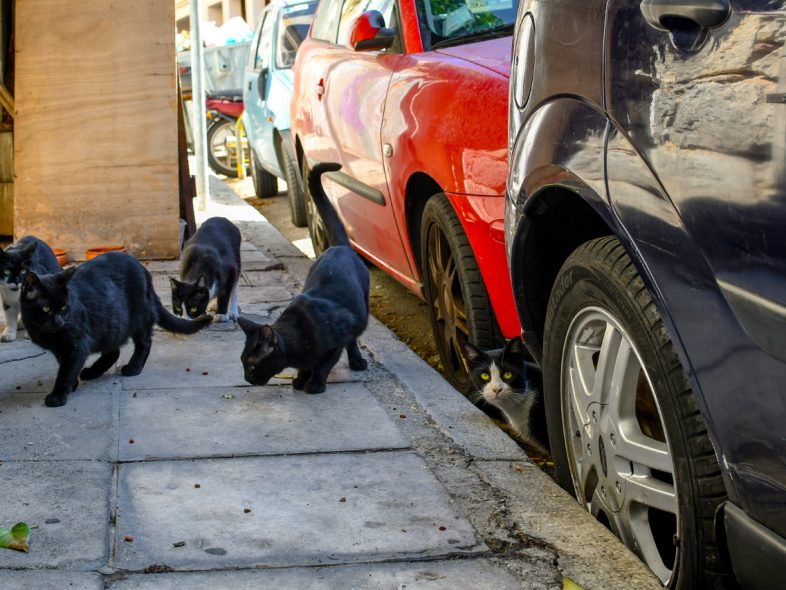 The historic downtown area is very walkable and compact. We stayed at the
Central Athens hotel
, great location, better than average room, and a fantastic rooftop bar. Best of all, magnificent Acropolis views from our room. Great breakfast, too. One of our favorite memories from all our trips is arriving late at night (hadn't seen the Acropolis yet), walking up to the terrace bar and being blown away by the illuminated Acropolis. Definitely one of our "holy crap" moments that will stay with us forever.
We've been to Athens a few times since then and definitely intend on going back many more. As far as historical sites packed into a city center, only Rome outdoes it as far as major attractions. What we enjoyed here more than Rome though was the cats. They are everywhere and they are in fairly good condition compared to some other countries city centers.
While all of Athens is worth visiting, and for obvious reasons you can't miss the big attractions like the Acropolis, ancient Agora, Hadrian's Arch, Acropolis museum, you will definitely want to spend some time strolling the Monastiraki and Plaka districts. They're close together, very touristy, and a lot of fun with cafes and colorful shops everywhere (and cats).
Athens cats photo page
, we have a map of a few of the spots we got lucky, so check that out and see if you have the same results we did. You will get lost, I can almost guarantee it, and the side streets don't have the quaint appeal of the touristy areas, but you do get to run across locals now and then and of course, the cats. Added bonus, you're far away from the bracelet salesman.
So, see the big sites, enjoy the history of this beautiful city, eat at a sidewalk cafe (hopefully with a feline friend or two), but make time to wander the base of the Acropolis (and keep your camera ready). Look in gardens, ruins, bushes – anywhere not out in the open, but close to homes and buildings. Especially in the summer, the cats escape the heat by moving into the shade. A little bit of food will help coax them out of hiding, so stop at a nearby market to buy some dry cat food. You will make lots of cats very happy. When it's time for you to eat, you can go all "foodie" and find an out of the way restaurant tourists never go, or you could head to the marketplace off of Aiolou and Adrianou Street, just across from the Roma Agora, and dine with the "real" locals (cats).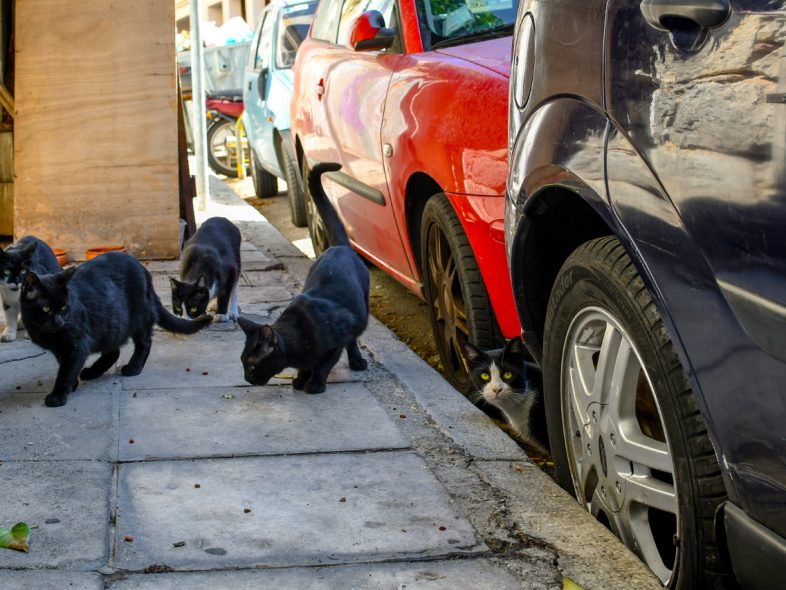 Cats in the Plaka District
The best part about this safari is that it is literally right at the base of the Acropolis, so before or after, you can visit most of the ancient sites so your friends don't tease you for just getting cat photos. Make sure you purchase ticket passes beforehand at one of the booths or online so you can skip the lines. If you're nervous about Athens and have heard grumblings about the city, ignore them and give it a try. The locals are fun-loving, laid back and aggressive, but not overly so. They're also very rightly proud of their Greek heritage and you can sense it from them. Cat lover or not, Athens is a magical city with a very special place in history.
DO
visit the Parthenon and the sites on Acropolis Hill, but
DON'T
wait until mid-day when it's packed with tourists, especially in summer heat. You will regret it.
---
DO wander the lively Plaka and Monastiraki areas, but DON'T fall for the bracelet salesman on almost every street. If you see someone approaching you with string bracelets, walk away or give a firm "no". Otherwise, you will be buying colorful string.
---
DO consider a taxi from the airport or cruise port. It's affordable and quick. Time equals money as it relates to travel, so why save $20 only to have to spend more time switching trains, busses, etc. But, DON'T let your driver convince you to arrange a meetup later to drive you back to the airport. There are plenty of taxis everywhere and you don't need to be worrying about making it to a specific spot at a certain time.
---
DO enjoy the many, many tourist shops and souvenir stores, but DON'T buy the first thing you see. You'll notice a wide variety of prices for the same objects – and you will see the same things over and over again.