Cat Rating – Scale of 1 to 5

---
Torre Argentina Roman Cat Sanctuary is perhaps the mother of all cat sanctuaries. Not just because it happens to be in possibly the most perfect location in the world, right in the middle of not only historic Rome, but the spot where Julius Caesar was assassinated in 44 BC, but because it also happens to be a well-run, effective organization clearly with it's best interests clearly being only the cats.
Our first visit was completely by accident. Back in 2005 on a trip with our teenage kids, we just happened to be wandering the colorful and lively streets of Rome when our cat radar, which all four of us are blessed with, spotted a stray black and white cat jumping over a railing. Of course we had to follow. When we reached his jumping spot, we looked down into a large below ground area with ancient ruins, grassy areas and still standing columns and could see a small staircase at the opposite end heading into the sunken area. That was our first glimpse of what has become a must-visit on every trip to Rome.
The sanctuary is not large, but it currently houses 150 cats. There is a small courtyard where the cats are free to roam and visitors are able to enjoy their company. Inside the sanctuary doors they have a main room where they sell souvenirs and the cats hang out, as well as a nursery area behind a gate where the injured and ill cats reside. It is staffed by cat loving volunteers who do a great job not only improving the lives of the cats, but marketing the organization in order to continue helping the cats of Rome. On our first trip we met a very nice volunteer from Texas who took our family to another section, slightly below the sanctuary and off limits to most visitors, where there were more ruins. We feel lucky to have been given a private tour and it's a memory that will stick with all of us.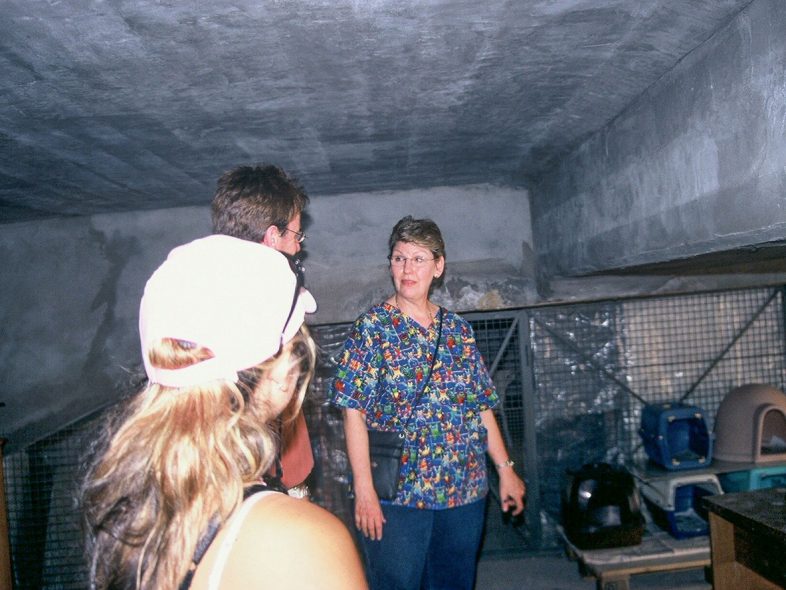 2005 visit to "off limits" area of Torre Argentina
Aside from selling calendars, shirts, aprons and more, visitors may also adopt a cat at a distance. A small donation to the organization means you get a photo and email update from Rome on your cat's well being. We have adopted two over the years, Gottardo and Raptus (the three legged girl in the featured image above). We have also purchased far too many shirts, aprons, calendars, etc. over the years, but it's all for a great cause, so no regrets.
There is every kind of cat you can imagine living at the shelter. Many are ill, abused or injured, and it could be heartbreaking experience, but the love and care provided by the staff of volunteers will melt your heart if you're a cat lover. There is no question that these people love these cats. You will take home some lifelong memories of these beautiful felines, many who have survived nightmare situations, but now clearly know they have a place to call home. Maybe it's just us, but we get teary eyed every time we go there.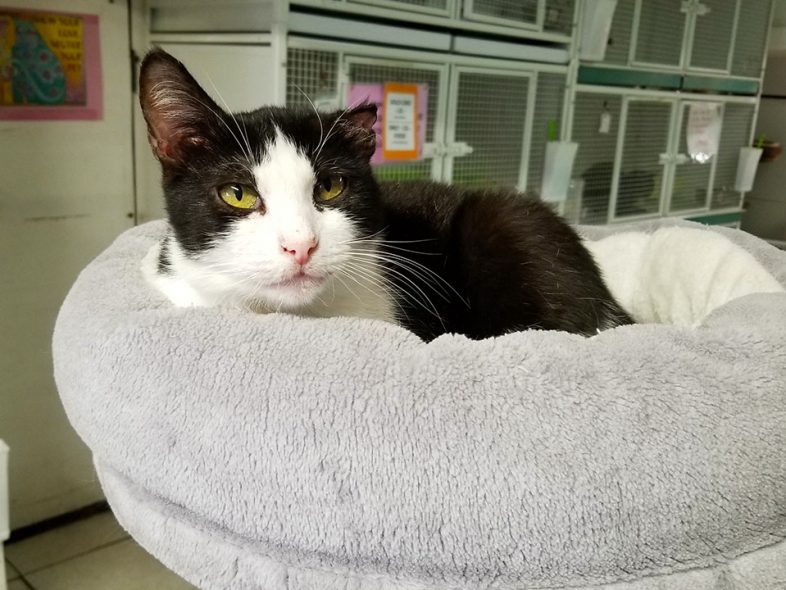 One of the many cared for cats at the shelter
Despite the recent big news that the archaeological site is to be restored in a million dollar plus project sponsored by luxury jeweler Bulgari (completion date 2021), there are no plans to relocate or close the shelter. Mayor Luca Bergamo said the site's many cats "would not be disturbed".
If you're looking for a rewarding experience that's fun for the whole family, I'd urge you to visit, play with the lovable cats, and buy a few souvenirs which will go a long way in helping the stray cats of Rome. For more information you can visit their website.